Collections
Shop for artwork based on themed collections. Each image may be purchased as a canvas print, framed print, metal print, and more! Every purchase comes with a 30-day money-back guarantee.
About Cathy Carey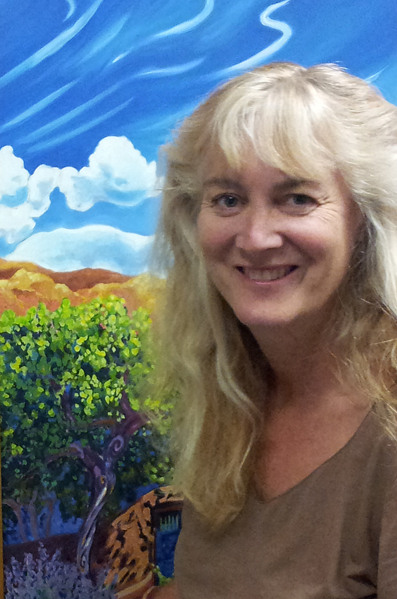 Contemporary Expressive Colorist

Cathy Carey was born in Washington, DC. and grew up in Alexandria, VA. She was educated at the Corcoran School of Art in Washington DC, and received a BFA in Painting and Printmaking from Virginia Commonwealth University in Richmond, Virginia. Several years later Carey moved to Southern California and continued painting, and started a business in graphic design and illustration. She works in all media's including Photoshop to create images. She currently maintains a studio and teaches workshops in San Diego, CA and Santa Fe, NM., and has taught at the Art Institute of CA in San Diego. The award winning paintings of Cathy Carey are in many private collections world wide.

"My purpose is to capture an emotional sense of reality by describing the color and drama of a place through gesture and brush stroke, color and composition. I employ impressionist techniques, and vibrant expressionist color and rhythmic gestural brushstrokes. I pair patterned and flat decorative space with atmospheric perspective to contrast the sense of space in the painting.

I paint landscapes because I love the feeling I get when I'm surrounded by nature and I'm fascinated by organic shapes. I'm inspired by the feel of the wind and how the movement it makes causes the light to dance in patterns of warm and cool. I am drawn to the night sky and the idea that looking at the light of stars is looking back in time. I use brushstroke marks to show the lines of energy I feel coming off the living shapes, spreading and combining throughout all aspects of nature.

I want my pictures to transcend the reality of description and instead create in viewers the same sense of joy and exhilaration I felt in painting it, the beauty of an examined moment. I paint what it feels like, not what it looks like. I want the movement and interaction of colors and shapes to feel like the rhythm and pulse of music and dancers.

Often my paintings are of a house, or houses, and trails through a landscape. These represent the soul of an individual, or society - the trails are the journeys of life, the path taken. My paintings take place in an alternate reality. I change perspective, heighten color, dramatize certain aspects, and minimize other details.

My style has been greatly influenced by Fauve painter Henri Matisse, Claude Monet and Vincent Van Gogh.